My Elecraft K3 Experience
Updated 12/29/2012 (Added "Phone Contesting on the Cheap")
---
A Unique Beginning
I've been an amateur radio operator for 40 years (yikes!), and never had a really good radio. My present home station consists of an Icom IC-706MKIIG, a pretty good rig, but not high end. When the Elecraft K3 came out, and got such good reviews, I decided I would get one after the last of the children graduated college in 2011. I liked the idea of the no-solder kit, where I could take some pride in assembling it myself, but not have to deal with surface-mount soldering. But with one more daughter still in college, some strange and wonderful things happened over the summer of 2010.

First, Jon Pellant, W1JP, brought his K3 up from NYC for the WARA / CC-ARC Field Day. When Jon headed home, he inadvertently left the manual behind at the site. When I emailed him, he said not to bother sending it back, as he had the PDF file. So I kept it and read it voraciously like a can't-put-it-down novel.

Later in the summer, a UPS notice showed up on my door for a delivery from Elecraft. How strange! I called Elecraft to see if they had made a mistake. The woman who answered the phone asked me, "Did you open it?" I said no. She said, in a mysterious manner, "I suggest that you open it". I asked if she knew what it was. She said yes. I said, "You're not going to tell me, are you?" She said no.

When I got home, my wife Irina had picked up the box from UPS on her way home from work. I was mystified, but Irina, being much brighter than me, said that it must be from my best friend Bones (Rick Palm, K1CE). She guessed correctly that it was his way of saying thanks for all the support I had given him before and since the recent passing of his beloved wife, Joanne Palm, W1GUN. Bones and Joanne met while both employed at ARRL Headquarters in Newington, CT, and they later moved for Florida.

Then, within 2 days of the K3's arrival, I received snail mail from W1JP, saying that he wanted his K3 manual back after all, and to please send it back in the enclosed s.a.s.e. I felt like Jim Carey in "The Truman Show".


W1JP and his K3 at FD 2010


K1CE & W1MJ climbing Mt. Washington, NH, September 2010
---
Accessorizing
The New England ARRL Convention came shortly after the K3's arrival, and gave me the opportunity to get advice on options and accessories from Elecraft co-founder Eric Swartz, WA6HHQ. He asked how I planned to use the rig. When I told him that I was mostly interested in CW, and also wanted to use the rig on SSB on Field Day, he advised me to get the 400 Hz and 2.8 kHz 8-pole roofing filters. I also ordered the MH2 hand mike. Elecraft paid the shipping charge on orders placed at the convention.
---
Work Area
I took seriously Elecraft's suggestion of setting up an "ESD Safe" work space that would not cause static damage to the components during assembly.
I set up a kit building work area consisting of:
4' x 2' folding table, from Wal-mart "Site to Store"
Protektive Pak 37676 ESD Mat, from Stanley Supply
Desco 09821 Common Ground Cord, 10mm Socket, w/resistor, from Stanley Supply
3M AMWS61M Metal Wrist Band & 6' Coil Cord, from Stanley Supply
Initially, based on an error on the Stanley web site, I bought a Desco cord that would not mate with the mat because both parts had the same gender. Stanley was nice about correcting the error, and I see that they've corrected their web page to show the correct matching cord. Even the correct cord was difficult to plug onto the mat, as I had to squish down the foam around the connector, but it worked out OK.
---
Inventory
As in my old Heathkit building days, I also took seriously the instruction to do a parts inventory prior to building the kit. Besides making sure everything is present, this also gave me familiarity with the parts. And as I counted the hardware, I sorted the screws and such into clear sandwich bags with labels that made the parts easy to find during assembly.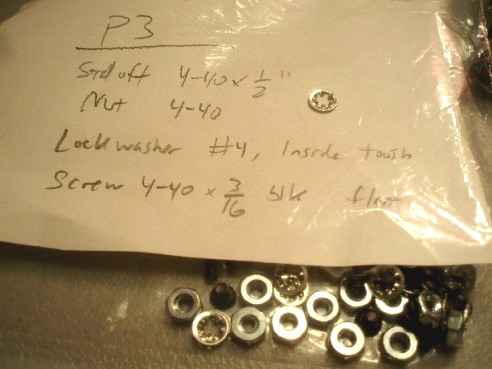 There were some apparent discrepancies between the inventory appendix in the K3 manual and the actual parts I received, but Elecraft resolved the issues fairly quickly through an exchange of emails. In the end, nothing was missing, and Elecraft has addressed at least some of the discrepancies in their latest "Assembly Manual Errata".
---
Assembly
Finally, with a proper work area and a complete inventory, I started building the kit. I found the instructions to be very clear, with plenty of accompanying photos - as good as the instructions provided by Heathkit when I built my HW-101 as a teenager. I did have a few questions during assembly, but as with my inventory questions, I received swift responses from Elecraft - even on Sunday evenings!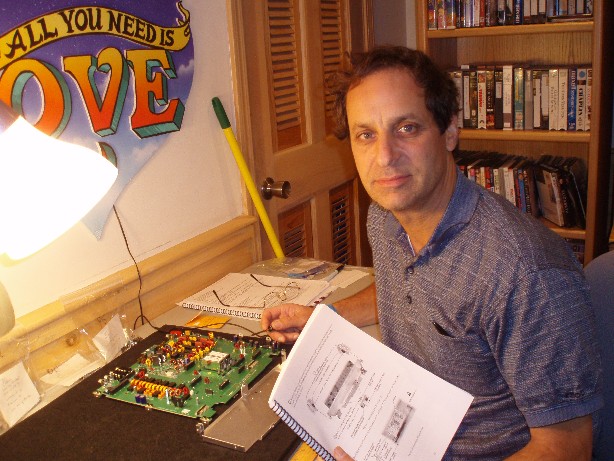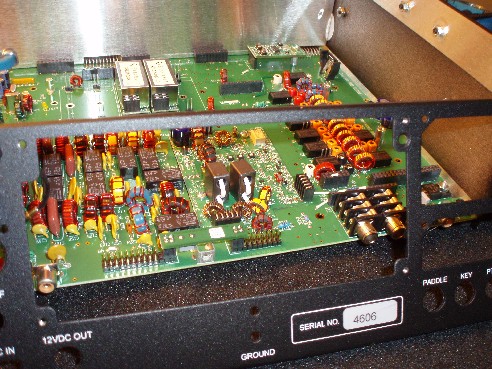 The hard part is finding the time to assembly the kit. I'm trying to get into the habit of getting through a couple of checkmarks in the assembly manual per day, but even that isn't always feasible. But I'll get there eventually.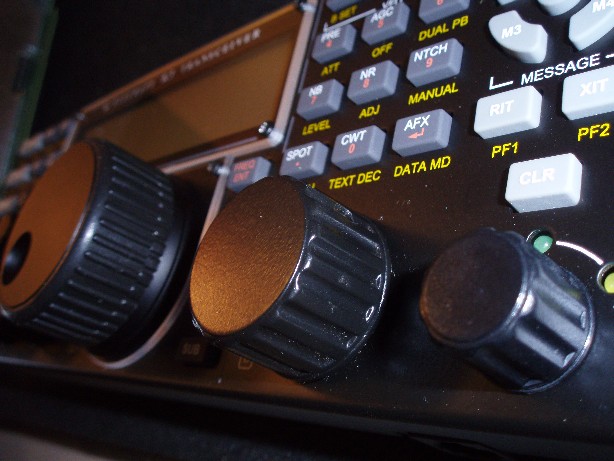 Front-panel assembly completed. I think I'm about half way there.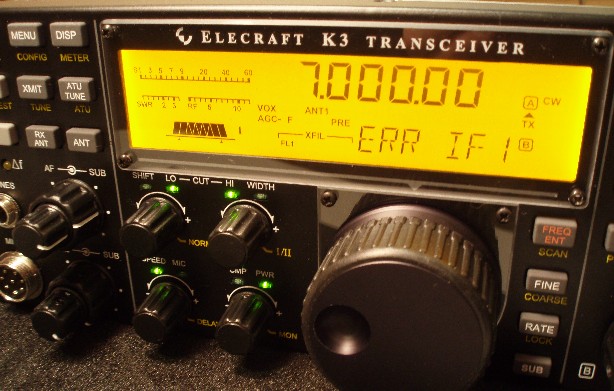 The initial smoke test. The smoke did not escape - yeah!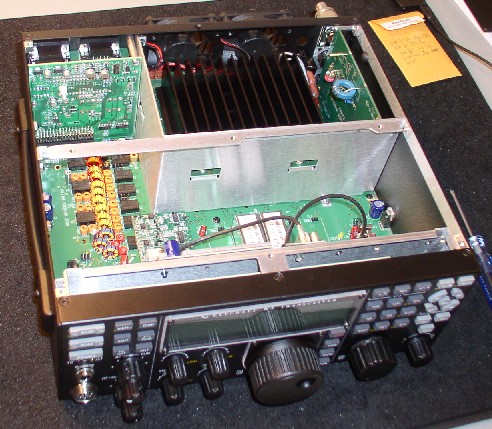 The final step was installing the 100-watt final amplifier option (rear right with heat sink)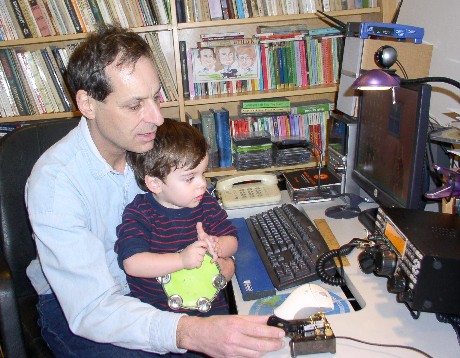 And finally, the day after Thanksgiving, the rig is complete and on the air. My first contact was with Bones, K1CE. Then I gave it a workout on CW during the CQ WW DX Contest and ARRL 160M contest. In this photo, I was using the CW text decoder to show my grandson Dima his name as I was sending it using my Begali paddle and the K3's internal keyer.
---
Interfacing
Interfacing the K3 with my computer for firmware updates, rig control, and CW was very easy. It only requires an off-the-shelf "9M-9F" serial cable. I used a shielded cable, Radio Shack 26-1402. On a second such cable bought in 2012, I had to unscrew two pieces of hardware that prevented the cable from plugging into the K3:
The setup in N1MM Logger was easy - I used the same serial port lines for CW and PTT as I did for my IC706MKIIG, and set the K3 CONFIG:PTT-KEY to match. If I disable the PTT control in N1MM, I can send CW in QSK (full break-in) mode, but I haven't done so. I used to like QSK on my old Ten Tec Argosy, but I guess the older me doesn't want the distraction.
The K3 has built-in RTTY and PSK31 functionality, but I haven't found away to use it with N1MM Logger. The K3 doesn't require a Rig Blaster or similar interface, as it has audio line in and line out connectors. I just use ordinary cables from the rig to the computer, Radio Shack 42-2387 and 42-0758. These cables are different colors to help prevent mix-ups, though I also label the cable ends.
---
Continual Learning
Once I had assembled and hooked up the K3, I realized that I still had to learn how to operate it. Basic operation is not difficult, and the manual is good. But taking advantage of all the features is a continual learning process.
For example, I originally didn't find the noise blanker useful. I had been focusing on the digital noise blanker, which doesn't seem to help with my local noise sources. Then with guidance from George W1LSB, I learned that the analog noise blanker works really well for some of my local noise sources, tought not all. The best noise reduction feature for CW is the WIDTH control - you can go as narrow as 50 or 100 Hz with no ringing.
---
First DXpedition
In March, 2011, I operated on St. John in the U.S. Virgin Islands. I installed the optional antenna tuner before going, and bought a balun so that I could connect a twin-lead fed dipole. This was a "hamcation" - primarily a vacation with my wife Irina, with some hamming on the side.
Unfortunately, I forgot the connector that mates the balun with the radio. I kluged something together, but it must have been intermittent, and I had smoke coming out of the radio - Yikes !!! Fortunately, Electraft's incredible support people came through for me via email. From my detailed description, they figured out that an inductor on the new tuner had burned up. They explained that it was part of a trap to prevent the rig from radiating some internal 8 MHz signal, and since I was on some island where I probably wouldn't bother anyone, they suggested bypassing the trap. They sent detailed instructions, and it worked! When I got home, a replacement inductor was waiting for me. Some day, I might even install it. A St. John ham, KP2G, kindly lent me a cable for connecting the balun properly to the radio.
---
Phone Contesting on the Cheap
At the WARA / CC-ARC 2012 Field Day, I learned from Phil KB1FIY that an ordinary computer headset, typically used for Skype and similar PC programs, can be used on the K3 via rear-panel connectors. On the main menu, with the rig in SSB mode, MIC SEL should be set to RP.L BIAS. The next menu item, MIC+LIN, can be set to ON if you want to send canned messages from the computer logging program. I have done this with N1MM Logger. Just bear in mind that the microphone is active during canned messages, so be quiet.
Contesters typically use a footswitch along with the headset. Phil told me that he got one intended for musical keyboards. I found such a footswitch for $15 at Guitar Center, the Live Wire LWS25 Keyboard Sustain Pedal. It has a polarity switch which should be set to Normally Open. From the same rack, I picked up a 1/4"phone-to-RCA(phono) connector adapter. Another option is to just change the connector to RCA (phone), as Phil did with his footswitch.
During the WRTC 2012 test operation, a serious phone contester at my site spend several hours with this setup and made a lot of contacts. He said that he liked the $20 Radio Shack computer headset better than his expensive Heil because it was lighter and more comfortable for long contesting sessions. It might be blasphemous, but I'm thinking that the high ratings for Heil headsets are mostly hype.
---